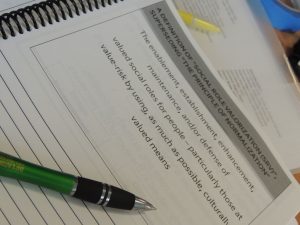 The Power of Roles
This workshop gives participants a practical introduction to the principles of Social Role Valorization. Through a combination of multimedia presentation and small group discussion, participants will learn about the phenomenon of social devaluation. This event includes discussion of how people with disabilities and other devalued groups have been systematically hurt and harmed by society, and what the impact of that devaluation has been. Participants will also learn about ways to help people have better lives by supporting them to achieve positive valued social roles. We will discuss practical strategies to make this a reality for the people you support.
*Additional dates have been scheduled in many agency regional locations. Please check with your Education Manager for dates in your area.
January 9, March 12, May 14, July 16

9am–4:30pm
Keystone Human Services

3700 Vartan Way, Harrisburg, PA 17110
2nd Floor Education Room
Two-Part Online Sessions
You must attend both sessions to complete the course.
September 10, 1:00-4:30 pm and September 14, 1:00-4:30 pm
October 6, 1:00-4:30 pm and October 13, 1:00-4:30 pm
October 28, 1:00-4:30 pm and November 2, 1:00-4:30 pm
November 12, 1:00-4:30 pm and November 16, 1:00-4:30 pm
December 1, 1:00-4:30 pm and December 7, 1:00-4:30 pm